SPECTRUM ANALYSER TOOLKIT IS DISCONTINUED FROM AUGUST 2021 DUE TO CRITICAL COMPONENT OBSOLESCENCE. WE HAVE SUFFICIENT COMPONENTS PUT BY TO SERVICE AND MAINTAIN EXISTING CUSTOMER INSTRUMENTS.

SAT1 and SAT1 PRO
Applications
Preamplifier and receiver sensitivity peaking, noise figure and gain measurements
Ultrahigh sensitivity testing, reduce your spectrum analyser noise floor below -170dBm/Hz with the flat high gain VLNA
Precise noise figure alignment using the pulsed noise mode
Turn your spectrum analyser into an ultra sensitive spectrum monitor / panoramic receiver with high dynamic range
Provides much faster sweep times on wider spans for a given noise floor by selecting wider resolution bandwidth settings
Noise source plus VLNA provide a flat power source … tracking generator substitute
Two port response sweeping of amplifiers, filters and cables
Flat noise source signal generator provides rapid audible confidence checking of receivers HF ... 2400 MHz
Noise figure testing of receivers through the audio output
Education tutorial experiments demonstrating noise figure in circuits and noise temperature in radio system engineering
Screening effectiveness testing, e.g. screened room validation
EMC testing requiring ultra low noise floor
Features at a glance
Calibrated noise source, stable, broadband and flat
2 MHz … 2400 MHz
10dB ENR +/-0.5dB ( -104dBm/MHz)
50 ohm sma output
VSWR <1.15:1 noise on or off (RL >23dB)
Pulse mode frequency 5Hz
Y factor NF look up graph (see data sheet)
Very Low Noise Amplifier, stable, broadband and flat
30 MHz … 2 GHz (20 MHz to 2.5 Ghz with reduced gain)
32dB gain; <+/-2dB flatness to 2 GHz (typically 32.5dB +/-0.9dB 30 MHz to 1.5 GHz)
<1dB noise figure to 1.5 GHz (<2dB @ 2.5 GHz)
-1dB compression +10dBm; <+13dBm saturated
Ofcom have dozens of our VLNA for spectrum monitoring applications using a spectrum analyser
Designed to provide a variety of additional features to your spectrum analyser. Regardless of the model of spectrum analyser you use, SAT1 unlocks new measurement capabilities up to 2 GHz with a broadband precision noise source plus a unique instrument grade VLNA design (>30dB gain, very flat from 30 - 1500 MHz and <1dB noise figure).
SAT 1 Datasheet
pdf
VSWR plots
here
Downloads
... Application Notes and resources
Related Application Note covering NF testing through the audio channel of a receiver ...
AN-2
Using RXGen v1.1 download
here
Download this MS Excel file for your calculations rather than using the supplied laminated graph ...
NF calculator spreadsheet
xls
Link to Noise Figure Meter (
NFM
) from Owen Duffy VK1OD
here
SAT1 GBP £*** plus shipping.
All SAT1 instruments include 1 off sma male to male (right angle) RG316 professional grade 3 GHz specified cable assembly to link the noise source through the VLNA.
---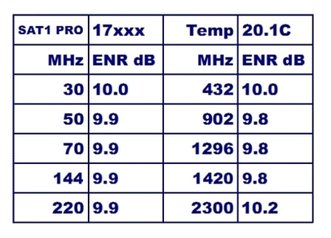 SAT1 PRO
has all the features and performance of SAT1 and adds an individual precision noise source ENR calibration on HAM bands from 28MHz through 2300MHz to 0.1dB resolution.
Sample ENR table shown here.
Also ships with multi trace Y factor NF graph (see data sheet).
SAT1 PRO Datasheet
pdf
VSWR plots
here
SAT1 PRO GBP £*** plus shipping.
Note SAT1 PRO calibration can be added as an upgrade to your existing SAT1 at a later date if you choose.
SAT1 calibration upgrade is £** plus return shipping.
To place an order, please complete the form below.
We will reply with an invoice, secure payment link and shipping date.
This is a manual process so please allow a while for this to arrive, thank you.
All major cards accepted. A PayPal account is not required.
Shipping charges
here