Our LNA products are being discontinued from August 2021 due to critical component obsolescence.
We have a sufficient components put by to service and maintain existing customer units as required.

(RX ONLY, masthead use requires user to add antenna relays, sequencer & weatherproof enclosure)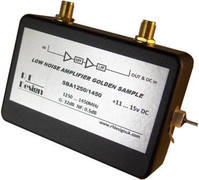 SBA1250/145023cm ham band
<0.5 dB noise figure >30 dB gain preamplifier
Passband filtering for rejection of signals below 1 GHz
Standard bias tee on the PCB
Rugged 100mW input tolerance, in or out of band
Input match plot
here
Datasheet
pdf
SBA1250/1450-sma PCB sub assembly with sma connectors GBP £*** plus shipping
SBA1250/1450-box Screened enclosure with Tusonix DC feedthrough GBP £*** plus shipping
SBA43070cm 420 MHz ... 450 MHz
<0.5 dB noise figure >30 dB gain preamplifier
Passband filtering. Standard bias tee on the PCB
Rugged 100mW input tolerance, in or out of b
and
Datasheet
pdf
SBA430-sma PCB sub assembly with sma connectors GBP £*** plus shipping
SBA430-box Screened enclosure with Tusonix DC feedthrough GBP £*** plus shipping
L Band Radio Astronomy
SBA1300/17001300 MHz ... 1700 MHz
<0.5 dB noise figure 30 dB +/-2dB gain preamplifier
Passband filtering for high rejection of signals below 1 GHz
Standard bias tee on the PCB
Rugged 100mW input tolerance, in or ou
t of band
Datasheet
pdf
SBA1300/1700-sma PCB sub assembly with sma connectors GBP £*** plus shipping

SBA1300/1700-box Screened enclosure with Tusonix DC feedthrough GBP £*** plus shipping
---
We are immensely proud to have been involved with the DSA-10 Fast Radio Bursts project in California, developing and manufacturing the SBA1300/1700. 20 amplifiers feature on the 10 dish system with dual polarization feeds.

Here's some background ... DSA RX report 2016

here

DSA-10: A Prototype Array for Localizing Fast Radio Bursts 2019

here

DSA-10 is the prototype for a planned 110 dish and eventually a 2000 dish deployment.
SBA amplifier features ...
Tested PCB or boxed. Very low noise figure, interstage filtering, high stability and excellent input VSWR (>10dB return loss), predictable and consistently high performance in your system without critical LNA NF tuning. Rugged 100mW permissible input power. The simple enclosure mounting uses 2 off 6.5mm sma jack holes.
We are asked from time to time why the SBA VLNA is described as a 'Golden Sample' ? Well the NF, passband and input match are so repeatable in production that we think it gives you the best opportunity to improve your system, without being hampered by thoughts of 'tuning to the VSWR of your antenna', out of channel interference degradation doubts or indeed general stability.
SBA is the rugged VLNA (Very Low Noise Amplifier) of choice for world leading radio astronomy groups, providing stable professional grade performance and repeatability at a reasonable price. Caltech SBA1300/1700 application at Owens Valley Observatory here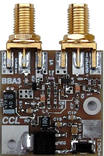 BBA350 MHz ... 2000 MHz very low noise and flat 30 dB gain preamplifier
25 dB gain at 2.5 GHz. <1dB noise figure to 1420 MHz
A superb preamp to optimise the sensitivity of receivers and instumentation, spectrum analysers etc.
Used by Ofcom for spectrum monitoring
Datasheet
pdf
BBA3-sma PCB sub assembly with sma connectors GBP £*** plus shipping
BBA3-box Screened enclosure with Tusonix DC feedthrough GBP £*** plus shipping
---

To place an order, please complete the form below.
We will reply with an invoice, secure payment link and shipping date.
This is a manual process so please allow a while for this to arrive, thank you.
All major cards accepted. A PayPal account is not required.
Shipping charges
here